Organised by Master Chess Foundation (MCF) In Association with IIG Sports Academy
Venue: IIG Sports Academy, I-Hub, E/43, Infocity Ave, Sailashree Vihar, Patia, Bhubaneswar – 751024
Date: 26th to 27th August 2023
Entree Fee: ₹ 400/- (Rupees four hundred only.)
National Participants
| Sl | Name | Rating | District | Score |
| --- | --- | --- | --- | --- |
| 1 | Sattwik Swain | 1206 | Khordha | |
| 2 | Advik Aditya Swain | 1152 | Cuttack | |
| 3 | Aditya Upadhyay | 0 | Khordha | |
| 4 | Om Esh Gottumukala | 0 | Khrodha | |
| 5 | Sahil Kumar Behera | 0 | Sundergarh | |
| 6 | Satya Narayan Swain | 0 | Kendrapara | |
| 7 | Sayansh Das | 0 | 33492271 | |
U7 OPEN
| Sl | Name | Rating | District | Score |
| --- | --- | --- | --- | --- |
| 1 | Aditi Moharana | 0 | Khordha | |
U7 Girl
Selection
Top 2 finishers of both Championships will represent ODISHA in forthcoming "36th National Under-7 Open & Girls Chess Championships 2023, will be held at Eastern Railway Sports Academy Complex 1, Goragacha Road, Alipore Mint Colony, Alipore, Kolkata, West Bengal from 21st to 27th September 2023.
| Sl | Name (GIRLS) | District | Score |
| --- | --- | --- | --- |
| 1 | Aditi Moharana | Khordha | 7.0/7.0 |
| 2 | Anannya Annwesha Mishra | Khordha | 5.5/7.0 |
Under 7 Girls: Champion & Runner-up
| Sl | Name (OPEN) | Rating | District | Score |
| --- | --- | --- | --- | --- |
| 1 | Sattwik Swain | 1206 | Khordha | 6.5/7.0 |
| 2 | Advik Aditya Swain | 1152 | Cuttack | 6.0/7.0 |
Under 7 Open: Champion & Runner-up
Day 1
The Odisha State (U-7) Open & Girls Chess Championships 2023, organized by the MASTER CHESS FOUNDATION in collaboration with IIG Sports Academy, commenced today at the state-of-the-art I-Hub located in Infocity, Bhubaneswar. The championship, which aims to foster young chess talents, was inaugurated with great enthusiasm and participation from esteemed guests and dignitaries.
The event commenced at 09:30 A.M., marking the beginning of what promises to be an exciting showcase of strategic thinking and sportsmanship among children under the age of 7. The picturesque venue, I-Hub, E/43, Infocity Ave, Sailashree Vihar, Patia, Bhubaneswar, provided the perfect setting for the young prodigies to display their chess prowess.
The inauguration of the championship was graced by the presence of Chief Guest Dr. Avaya Nayak, Ex Registrar of Utkal University, and Chairman of TITE College. The event witnessed the participation of numerous other distinguished personalities from the world of academia and sports, including: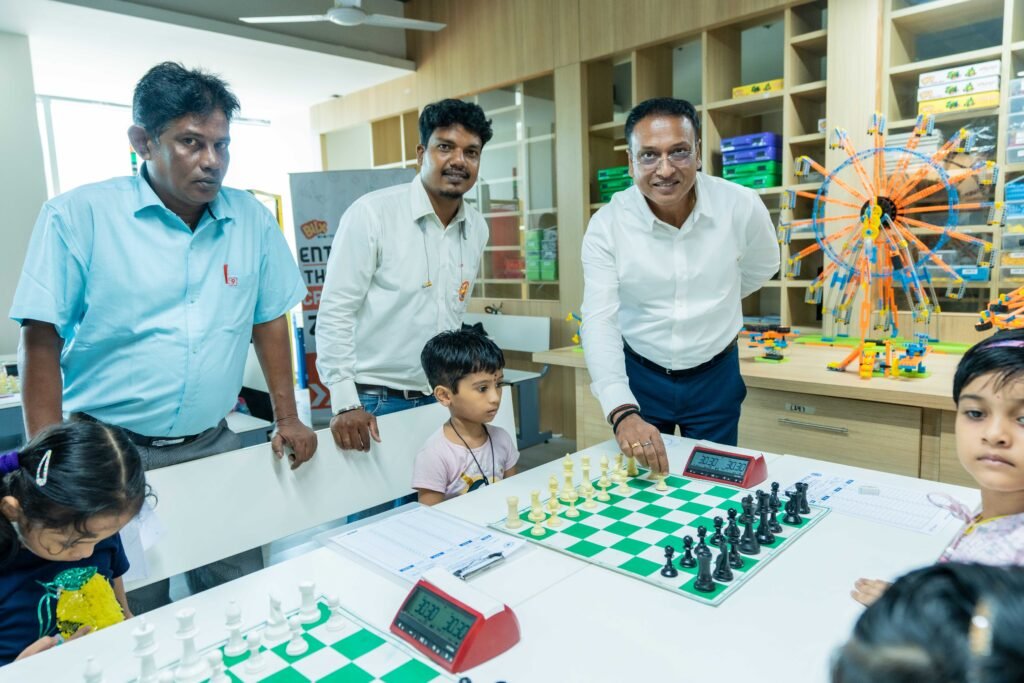 Dr. Deep Khare, Director-Principal, KT Global School
Mrs. Ayesha Baig, Principal, Pre-School, KT Global School
Mr. Surjya Kanta Mohanty, Advisor, IIG Group
Mr. Sangram Sahoo, Director, IIG Group
Mrs. Jessica Patnaik, Head of IIG RITZ and Design Studio
Dr. Manoranjan Mishra, Director, International Relations, KT Global School
Mr. Suresh Chandra Sahoo, International Arbiter, Tournament Director
Mr. Bikram Keshari Biswal, Founder, Master Chess Foundation
The presence of these esteemed guests underscored the significance of the championship in promoting intellectual development, strategic thinking, and healthy competition among the young minds of Odisha. The inaugural ceremony included inspiring speeches and symbolic first moves on the chessboard.
"We are thrilled to witness the beginning of the Odisha State (U-7) Open & Girls Chess Championships 2023," said MASTER CHESS FOUNDATION. "This championship reflects our commitment to nurturing young talents. As the championship progresses, chess enthusiasts and supporters are invited to witness the exciting matches and the impressive displays of talent that these young participants will undoubtedly deliver.
The championship has been divided into two categories, with 59 participants in the Open category and 28 participants in the Girls category (total of 87). The event was inaugurated amidst great excitement and participation from notable dignitaries and guests from the academic and sports domains.
The Chief Arbiter for the event is International Arbiter Santosh Kumar Mohapatra ably assisted by IA Jyoti Shankar Nanda and the entire Team of Master Chess foundation for the smooth conduct of the tournament.
Day 2
Tomorrow, another 4 rounds to be played. 4th round will be started at 09:00 AM.
Contacts
IA Jyoti Shankar Nanda, 76090-99886 (WhatsApp)
IA Santosh Kumar Mohapatra, 63717-22939 (WhatsApp)
Shri Bikram Keshari Biswal, MCF Founder 98610-09674