Conducted by All Odisha Chess Association
Coordinated by The Department of Sports & Youth Services, (DSYS), Govt. of Odisha
Venue: PROCHESSTA, Old DSYS Building, C1 Nayapalli, Bhubaneswar
Date: 12th August 2023
Entree Fee: ₹ 100/- (Rupees One hundred only.)
Total Prize Fund: ₹ 31,400/-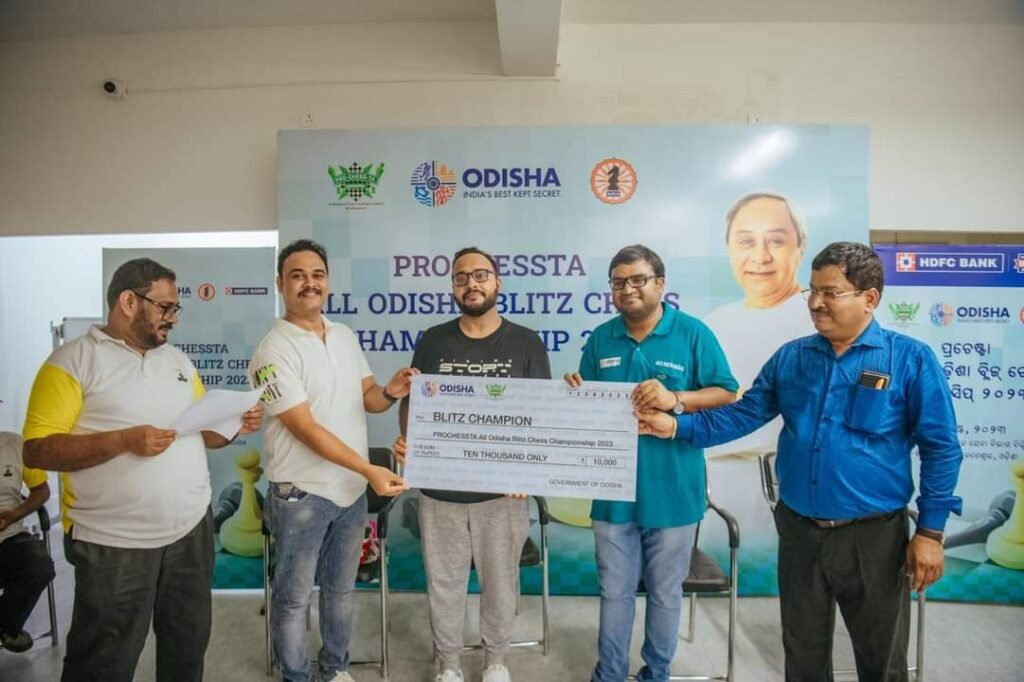 The recently concluded PRO-CHESS-TA – All Odisha Blitz Chess Championship 2023, organized in collaboration with DSYS and the All Odisha Chess Association, has marked a remarkable success. The event saw enthusiastic participation from a total of 129 players hailing from 18 different districts. Among the participants were notable players, including 1 Grandmaster, 1 Women Grandmaster, 2 International Masters, 1 Women International Master, 1 FIDE Master, and 2 Candidate Masters, adding a high level of competitiveness to the championship. Impressively, 76 players held international ratings, further elevating the level of play. Throughout the championship, these skilled participants engaged in intense battles of intellect and strategy, showcasing their exceptional mastery of the game. The PRO-CHESS-TA All Odisha Blitz Chess Championship 2023 has undeniably emerged as a platform for top-tier chess talent to shine and has contributed significantly to the vibrant chess culture of the region.
The closing ceremony of the PRO-CHESS-TA – All Odisha Blitz Chess Championship 2023 was graced by esteemed dignitaries, including DSYS OSD Shri Sidhartha Sankar Sahu, Odisha, HDFC Bank Marketing Head Shri Jaminikant Sahoo, Honorary Secretary of AOCA Shri Debabrata Bhatta, and IM Swayangsu Satyapragyan, the Chief Coach of PRO-CHESS-TA. Their presence added prestige to the event and highlighted the significance of the championship in the chess community. During the ceremony, these distinguished guests presented trophies to the deserving winners, acknowledging their exceptional skills and dedication. Their participation and involvement in the closing ceremony further solidified the championship's status as a significant and impactful event in the realm of chess in Odisha.
The One-day BLITZ Championship was expertly conducted under the guidance of a highly capable team of arbiters. IA Suresh Chandra Sahoo, serving as the Chief Arbiter, led the organization of the event with precision and expertise. Assisting him was IA Tapas Kumar Mohanty, the Deputy Chief Arbiter, who played a crucial role in ensuring the smooth flow of the championship. The event's success was also attributed to the efforts of IA Santosh Kumar Mohapatra and NA Susanta Sarangi, who contributed their knowledge and dedication as part of the conducting team. Their collective commitment to upholding the rules and spirit of the game ensured that the One-day BLITZ Championship was executed seamlessly, creating an environment conducive to fair play and fierce competition.
Congratulations!
Contact
| | |
| --- | --- |
| IA Tapas Kumar Mohanty | 94377-53555 |
| IA Jyoti Shankar Nanda | 94394-90922 |