Organised by All Odisha Chess Association
Collaboration with SOA University, Bhubaneswar
Venue: Siksha 'O' Anusandhan, SOA University, Campus 2, Near SUM Hospital, Bhubaneswar
Date: 8th & 9th September 2023
Entree Fee: ₹ 600/- (Rupees six hundred only.)
Total Prize Fund: 10,1445 + 90 Trophies
All school students (up to 10th class) of Odisha are eligible to participate in the Championship.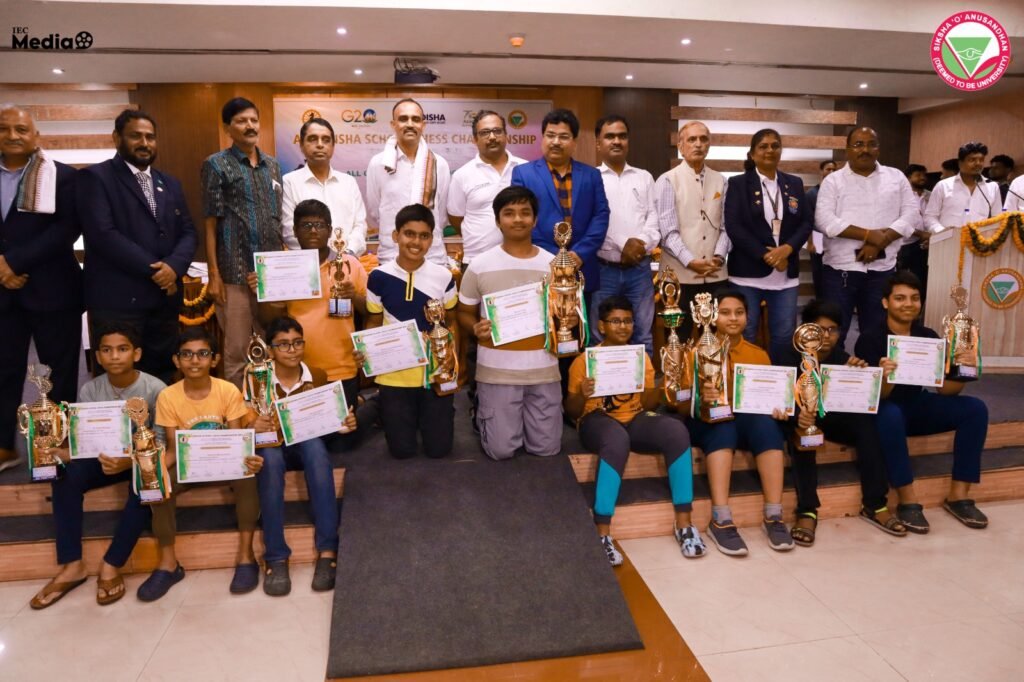 That's great to hear about the conclusion of the All Odisha School Chess Championship 2023! It's impressive to see such a large number of participants from various districts and schools. The inclusion of internationally rated players and a significant number of female participants also shows the diversity and competitiveness of the event.
The Rapid format with 25 minutes plus a 5-second increment from move no.1 can make for intense and exciting games, requiring quick thinking and strategy.
The valedictory ceremony and prize distribution, held at the Convention Center in Campus-2 of SOA University in Bhubaneswar, Odisha, would have been a memorable moment for the winners and participants, celebrating their hard work and achievements in the tournament.
Such events play a crucial role in promoting chess and nurturing young talents in the region. Congratulations to all the participants and organizers for a successful championship!
The following esteemed Guests were present in the function & gave way the prizes to the all young talents.
Chief Guest: Mr Dayal Gangwar, IPS, ADGP, Odisha
Guest of Honour Prof. Ashok Kumar Mohapatra, Director of Health Services, SOADU.
Mr Dababrata Bhatta, Secretary, All Odisha Chess Association
Mr. Sankar Prasad Mishra, Treasurer, AOCA
Mr. Madhusudan Padhi, Retd. IAS
Dr. D.P. Khare, Principal, KT Global School, BBSR.
Prof. Jyoti Ranjan Das, Dean(SW), SOADU
The Chief Arbiter IA Suresh Chandra Sahoo ably assisted by IA Tapas Kumar Mohanty, IA Santosh Kumar Mohapatra, IA Jyoti Shankar Nanda, NA Bishnu Prasad Purohit, NA Prasanna Kumar Nayak, NA Swarupmayee Dash, Susobhit Das.
Contacts
| | |
| --- | --- |
| IA Jyoti Shankar Nanda | 94394-90922, 76090-99886 (Registration) |
| Shri Biranchi Narayan Sahoo | 90901-65299 (Registration) |
| Er. Sushant Kumar Sarangi | 99371-37680 (Accommodation) |
Emergency Contact
| | |
| --- | --- |
| Shri Shankar Prasad Mishra, Treasurer, AOCA | 86586-32226 |
| Shri Debabrata Bhatta, Secretary, AOCA | 94370-93970 |
| Shri GC Mohapatra, President, AOCA | 94370-45464 |